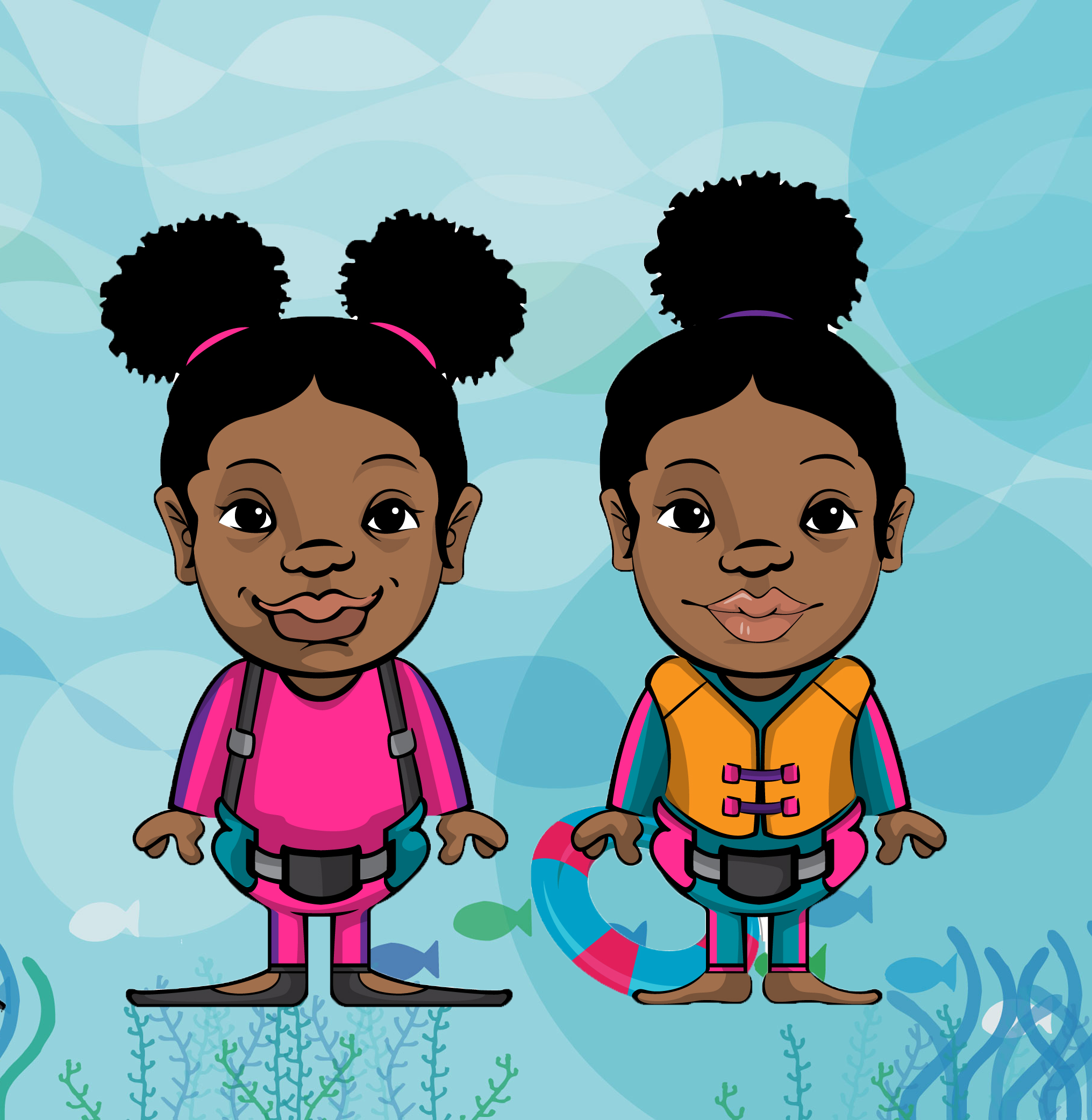 Hi! We're Sneu (pink) and Symon (yellow), the youth avatar ambassadors for Black Girls Dive Foundation! We are here to share one of the many great things we are doing this summer - READING!!
Research has shown that there is a strong relationship between reading and critical thinking. Spend this summer becoming "Booked." Here are a few things that will assist you.
1. Make reading a habit. How do you make reading a habit? Well, two things you can do:
A little reading every day will expand you in depth and breadth.
Make reading a priority in your life. Set aside a time and place to read every day. Most frequent question: "Where do you find the time?" Answer: make time every day; make it a priority. Turn off the television and computer and read for at least 30 minutes. I read for at least 30 minutes each morning and before bedtime.
2. Carry something to read with you all the time. On my iPad I have subscriptions to several periodicals and books; and
3. Keep one or more books going. In contrast to newspapers and periodicals, books enable you to think more critically.
The Summer List
Piecing Me Together By Renee Watson
Jade believes she must get out of her neighborhood if she's ever going to succeed. Her mother says she has to take every opportunity. She has. She accepted a scholarship to a mostly-white private school and even Saturday morning test prep opportunities. But some opportunities feel more demeaning than helpful. Like an invitation to join Women to Women, a mentorship program for "at-risk" girls. Except really, it's for black girls. From "bad" neighborhoods. But Jade doesn't need support. And just because her mentor is black doesn't mean she understands Jade. And maybe there are some things Jade could show these successful women about the real world and finding ways to make a real difference. Friendships, race, privilege, identity—this compelling and thoughtful story explores the issues young women face.

The Boy Who Harnessed the Wind By William Kamkwamba and Bryan Mealer
When a terrible drought struck William Kamkwamba's tiny village in Malawi, his family lost all of the season's crops, leaving them with nothing to eat and nothing to sell. William began to explore science books in his village library, looking for a solution. There, he came up with the idea that would change his family's life forever: he could build a windmill. Made out of scrap metal and old bicycle parts, William's windmill brought electricity to his home and helped his family pump the water they needed to farm the land. Retold for a younger audience, this exciting memoir shows how, even in a desperate situation, one boy's brilliant idea can light up the world. Complete with photographs, illustrations, and an epilogue that will bring readers up to date on William's story, this is the perfect edition to read and share with the whole family.
 
The Honest Truth By Dan Gemeinhart
In all the ways that matter, Mark is a normal kid. He's got a dog named Beau and a best friend, Jessie. He likes to take photos and write haiku poems in his notebook. He dreams of climbing a mountain one day. But in one important way, Mark is not like other kids at all. Mark is sick. The kind of sick that means hospitals. And treatments. The kind of sick some people never get better from. So Mark runs away. He leaves home with his camera, his notebook, his dog, and a plan to reach the top of Mount Rainier--even if it's the last thing he ever does. The Honest Truth is a rare and extraordinary novel about big questions, small moments, and the incredible journey of the human spirit.
Wolf Hollow By Lauren Wolk
Growing up in the shadows cast by two world wars, Annabelle has lived a mostly quiet, steady life in her small Pennsylvania town. Until the day new student Betty Glengarry walks into her class. Betty quickly reveals herself to be cruel and manipulative, and while her bullying seems isolated at first, things quickly escalate, and reclusive World War I veteran Toby becomes a target of her attacks. While others have always seen Toby's strangeness, Annabelle knows only kindness. She will soon need to find the courage to stand as a lone voice of justice as tensions mount. Brilliantly crafted, Wolf Hollow is a haunting tale of America at a crossroads and a time when one girl's resilience, strength, and compassion help to illuminate the darkest corners of our history.

The Girl Who Drank the Moon By Kelly Barnhill
Every year, the people of the Protectorate leave a baby as an offering to the witch who lives in the forest. They hope this sacrifice will keep her from terrorizing their town. But the witch in the forest, Xan, is kind and gentle. She shares her home with a wise Swamp Monster named Glerk and a Perfectly Tiny Dragon, Fyrian. Xan rescues the abandoned children and deliver them to welcoming families on the other side of the forest, nourishing the babies with starlight on the journey.
One year, Xan accidentally feeds a baby moonlight instead of starlight, filling the ordinary child with extraordinary magic. Xan decides she must raise this enmagicked girl, whom she calls Luna, as her own. To keep young Luna safe from her own unwieldy power, Xan locks her magic deep inside her. When Luna approaches her thirteenth birthday, her magic begins to emerge on schedule--but Xan is far away. Meanwhile, a young man from the Protectorate is determined to free his people by killing the witch. Soon, it is up to Luna to protect those who have protected her--even if it means the end of the loving, safe world she's always known.
Everything, Everything By Nicola Yoon
My disease is as rare as it is famous. Basically, I'm allergic to the world. I don't leave my house, have not left my house in seventeen years. The only people I ever see are my mom and my nurse, Carla. But then one day, a moving truck arrives next door. I look out my window, and I see him. He's tall, lean and wearing all black—black T-shirt, black jeans, black sneakers, and a black knit cap that covers his hair completely. He catches me looking and stares at me. I stare right back. His name is Olly. Maybe we can't predict the future, but we can predict some things. For example, I am certainly going to fall in love with Olly. It's almost certainly going to be a disaster.
Hidden Figures By Margot Lee Shetterly
Before John Glenn orbited the Earth or Neil Armstrong walked on the moon, a group of dedicated female mathematicians known as "human computers" used pencils, slide rules, and adding machines to calculate the numbers that would launch rockets and astronauts into space.
Starting in World War II and moving through to the Cold War, the civil rights movement, and the space race, Hidden Figures follows the interwoven accounts of Dorothy Vaughan, Mary Jackson, Katherine Johnson, and Christine Darden, four African American women who participated in some of NASA's greatest successes. It chronicles their careers over nearly three decades as they faced challenges, forged alliances, and used their intellects to change their own lives - and their country's future.
Life As We Knew It By Susan Beth Pfeffer
I guess I always felt even if the world came to an end, McDonald's still would be open.
High school sophomore Miranda's disbelief turns to fear in a split second when an asteroid knocks the moon closer to Earth, like "one marble hits another." The result is catastrophic. How can her family prepare for the future when worldwide tsunamis are wiping out the coasts, earthquakes are rocking the continents, and volcanic ash is blocking out the sun? As August turns dark and wintery in northeastern Pennsylvania, Miranda, her two brothers, and their mother retreat to the unexpected safe haven of their sunroom, where they subsist on stockpiled food and limited water in the warmth of a wood-burning stove. Told in a year's worth of journal entries, this heart-pounding story chronicles Miranda's struggle to hold on to the most important resource of all—hope—in an increasingly desperate and unfamiliar world. An extraordinary series debut!
Life in Motion: An unlikely Ballerina Young Readers Edition By Misty Copeland and Brandy Colbert
Determination meets dance in this middle grade adaptation of the New York Times bestselling memoir by the first African-American principal dancer in American Ballet Theatre history, Misty Copeland. As the first African-American principal dancer at the American Ballet Theatre, Misty Copeland has been breaking down all kinds of barriers in the world of dance. But when she first started dancing—at the late age of thirteen—no one would have guessed the shy, underprivileged girl would one day make history in her field.
Her road to excellence was not easy—a chaotic home life, with several siblings and a single mother, was a stark contrast to the control and comfort she found on stage. And when her home life and incredible dance promise begin to clash, Misty had to learn to stand up for herself and navigate a complex relationship with her mother, while pursuing her ballet dreams.
Life in Motion is a story for all the kids who dare to be different, dream bigger, and want to break stereotypes in whatever they do.
Ungifted By Gordon Kormon
The word gifted has never been applied to a kid like Donovan Curtis. It's usually more like Don't try this at home. So when the troublemaker pulls a major prank at his middle school, he thinks he's finally gone too far. But thanks to a mix-up by one of the administrators, instead of getting in trouble, Donovan is sent to the Academy of Scholastic Distinction (ASD), a special program for gifted and talented students.
It wasn't exactly what Donovan had intended, but there couldn't be a more perfect hideout for someone like him. That is, if he can manage to fool people whose IQs are above genius level. And that becomes harder and harder as the students and teachers of ASD grow to realize that Donovan may not be good at math or science (or just about anything). But after an ongoing experiment with a live human (sister), an unforgettably dramatic middle-school dance, and the most astonishing come-from-behind robot victory ever, Donovan shows that his gifts might be exactly what the ASD students never knew they needed